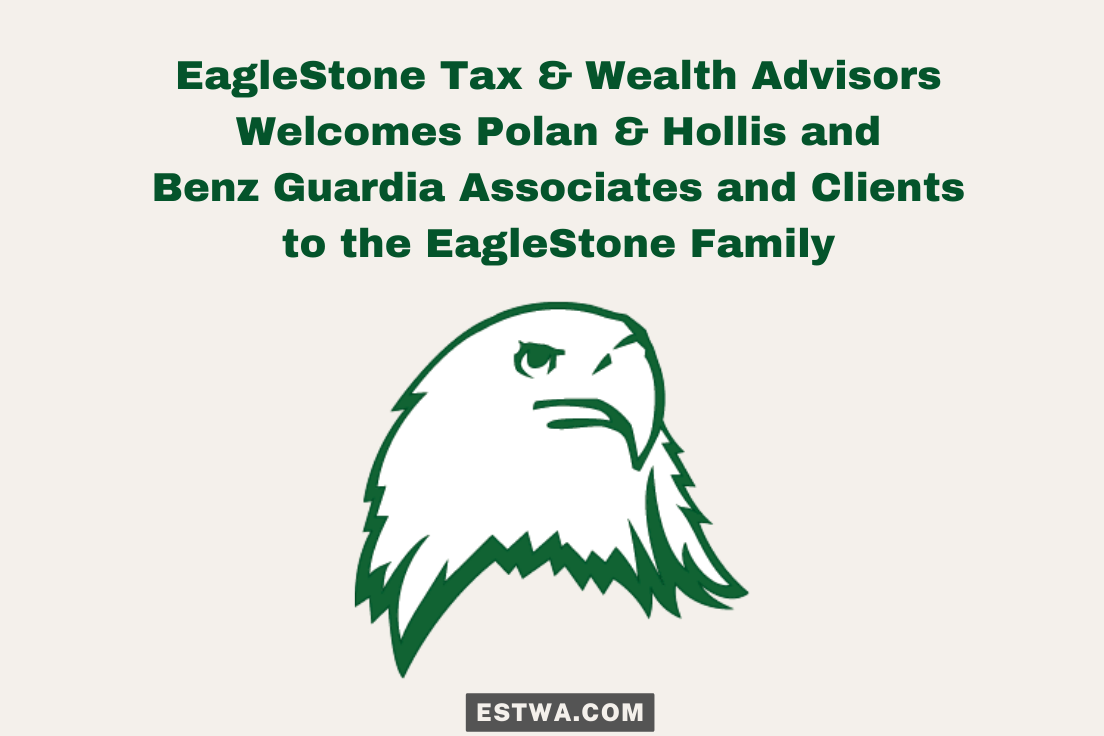 Rockville, MD (January 12, 2023) EagleStone Tax & Wealth Advisors, Inc. (EagleStone), based in Rockville, MD, has merged in the firms of Polan & Hollis, LLC, of Rockville, MD, and Benz Guardia Associates, PC, of Tysons Corner, VA, effective December 1, 2023.
Larry Polan, CPA, and Barry Benz, CPA, have joined EagleStone as Tax Principals. Polan and Benz each have over 40 years of experience in taxation, accounting and management consulting.
"EagleStone is pleased to welcome Larry Polan, his team and Barry Benz to EagleStone," said EagleStone Founder and Chief Executive Officer Jim Warring. "Their combined expertise will allow us to continue to offer superior tax and accounting services to businesses, professional service firms, medical practices, nonprofits and individuals on a variety of tax matters."
Polan's staff has joined EagleStone, which now employs over 40 professionals and serves clients in and around the mid-Atlantic region and nationally.
"We are confident that the focus on excellence and outstanding client service both Larry and Barry bring to our team will benefit our existing clients and enable us to build new relationships and maintain the high quality of work and responsiveness we are known for," said Warring.
Last year, EagleStone created a new retirement services division called Eaglestone Retirement Services after a merger of EagleStone and Martin Retirement Services of Gaithersburg, MD. Other acquisitions in recent years involving EagleStone include the addition of accounting firms Biscoe & Futrowsky, PC, in November 2018, and Grimm & Associates, PA, in November 2017.
About EagleStone:
EagleStone Tax & Wealth Advisors, Inc. is an independent firm serving clients nationally and internationally from its offices in the Washington, DC/Baltimore metropolitan area. Founded in 2007, Eaglestone provides a full spectrum of accounting, tax planning, investment management, financial planning, retirement, and wealth advisory services.